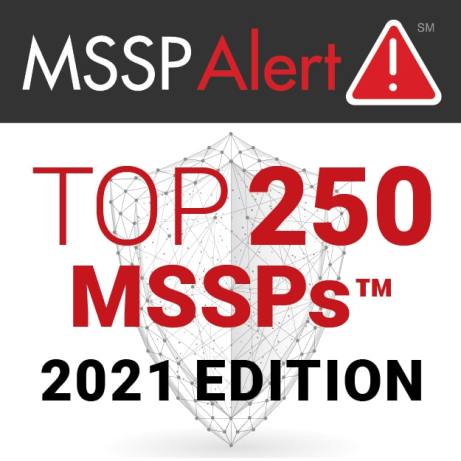 September 2021 – Endicott, NY: MSSP Alert, published by After Nines Inc., has named 1nteger Security to the Top 250 MSSPs list for 2021 (http://www.msspalert.com/top250).
The list and research identify and honor the top Managed Security Services Providers (MSSP), Managed Detection and Response (MDR) and Security Operations Center as a Service (SOCaaS) providers worldwide.
The rankings are based on MSSP Alert's 2021 readership survey combined with the digital media site's global editorial coverage of managed security services providers. The fifth-annual list and research report track the managed security service market's ongoing growth and evolution.
"We are honored and excited to be recognized as one of the top 250 MSSPs globally" commented David D'Agostino, Director of 1nteger Security. "This past year has been a record year for growth for 1nteger with the launch of our latest security service offering, 1nteger ONE and 1nteger ONE CMMC. Our commitment to delivering comprehensive compliance and cyber security services at an affordable price point has been well received by our SMB customers. We are grateful for our clients and our growing team that has a passion to protect our client's infrastructure."
"After Nines Inc. and MSSP Alert congratulate 1nteger on this year's honor," said Amy Katz, CEO of After Nines Inc. "Amid continued ransomware, malware and supply chain cyber attacks, the MSSP Alert readership and community continues to mitigate risks for businesses and government organizations worldwide."
Highlights from the associated MSSP Alert research include:
MSSP Revenue Growth & Financial Performance: MSSP honorees, on average, expect to generate $22.3 million in revenue for 2021, up 16% from $19.2 million in 2020. The growth rate remains consistent with last year's report.
Geography: Honorees are headquartered in 26 different countries.
Profits: 85% of MSSPs surveyed expect to be profitable for fiscal year 2021, which is roughly even with 2020.
Security Operations Centers: 71% have in-house SOCs, 19% are hybrid, 8% completely outsource their SOCs, and 2% are reevaluating their SOC strategies.
Cyberattack Trends: The most frequent attacks targeting MSSP customers in 2021 include vulnerability exploits (87%), phishing (96%), and ransomware (89%) incidents.
Cybersecurity Solutions: In a continued sign of market fragmentation, MSSP survey participants mentioned 130 different hardware, software, cloud, and services vendors that assist their cybersecurity efforts — roughly even with our 2020 report.
New Managed Security Services Offered: In addition to traditional managed security services, capabilities such as MDR (91%) have now gone mainstream. Plus, fast-growth services offered include SOC as a service (76%), XDR (67%), cyber talent as a service (43%) and cloud security posture management (41%).
The Top 250 MSSPs list and research were overseen by Content Czar Joe Panettieri (@JoePanettieri). Find the online list and associated report here: http://www.msspalert.com/top250.
Effective cybersecurity is more than just running tools. It takes a proactive approach with hands-on management. 1nteger Security has the technical expertise and experience to guide your business long-term and continually improve your security posture. The threat landscape is changing – meaning our standards must evolve as well in order to better serve our clients. Targeted attacks, ransomware and advanced social engineering are raising the bar every day. Having a strong defense-in-depth strategy is the answer.
About 1nteger: 1nteger is a division of one of ICS, a leading provider of outsourced IT services, cybersecurity, communications, and remote workforce solutions throughout the United States. Founded in 1986 and headquartered in Endicott, NY, ICS now employs over 130 people throughout its four office locations. ICS has been ranked as the top IT provider in Central New York by the Central New York Business Journal and is now featured on the Channel Futures MSP 501 list.
As a customer-focused company, ICS integrates the industry's best technologies and practices for each customer's specific needs. ICS serves as an extension of its customers' IT departments, enabling them to innovate and grow their business while helping protect them from the risk of cybersecurity threats. As part of that mission, beginning in the early 2010's, cybersecurity became a major part of the IT industry, and ICS responded with a dedicated security division to better serve clients. Contact us today to see how 1nteger Security can help you protect what matters most. For more information, please visit www.1ntegersecurity.com and www.icscomplete.com.
About After Nines Inc.
After Nines Inc. provides timeless IT guidance for strategic partners and IT security professionals across ChannelE2E (www.ChannelE2E.com) and MSSP Alert (www.MSSPAlert.com). ChannelE2E tracks every stage of the IT service provider journey — from entrepreneur to exit. MSSP Alert is the global voice for Managed Security Services Providers (MSSPs).
For sponsorship information contact After Nines Inc. CEO Amy Katz, Amy@AfterNines.com
For content and editorial questions contact After Nines Inc. Content Czar Joe Panettieri, Joe@AfterNines.com